AlterSmoke
Paris 5 Censier Daubenton
38 rue Daubenton
75005 Paris
Lundi

11h30-20h00

Mardi

11h30-20h00

Mercredi

11h30-20h00

Jeudi

11h30-20h00

Vendredi

11h30-20h00

Samedi

11h30-19h30

Dimanche

Fermé
add Boutiques Paris & Ile-de-France
star
star
star
star
star_half
44 Avis

4,7
Métro & RER
Lignes de bus & Tram
Arrêt
Censier - Daubenton
Parking le plus proche
Patriarches
Au coeur de Paris, à quelques pas du métro dans le charmant quartier Censier-Daubenton, vous trouverez toutes nos gammes de produits : cigarettes électroniques, liquides (français, anglais, malaisiens et américains), batteries, chargeurs, divers accessoires et étuis.
Large choix de liquides en 10mL, 30mL, 50mL et 90mL.
Une fontaine BIRDY est mise à votre disposition afin de vous ressourcer à tout moment.
Besoin d'un liquide de qualité à 3 heures du matin ? Notre distributeur automatique se charge de combler vos manques (disponible 24h/24, 7jours/7).
Nos équipes vous accompagnent dans un cadre agréable afin de répondre au mieux à vos besoins.
Nous vous accueillons chaleureusement du lundi au vendredi de 11h30 à 20h00 et le samedi de 11h30 à 19h30.
Offre spéciale AlterSmoke
5 liquides achetés - le 6ème offert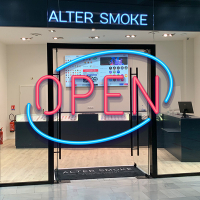 Ouvertures exceptionnelles
Boutique ouverte en Août aux horaires habituels
Le 27 février 2020
star star star star star
Top !
Le 18 avril 2018
star star star star star
cool
Le 14 août 2020
star star star star star
Meilleure boutique de vape à Paris ! Les vendeurs sont très sympathiques et à chaque fois nous avons une bonne discussion. Ils s'intéressent à leur clients et prennent le soin d'expliquer les choses simples ainsi que de discuter sur le côté un peu plus ''expert'' de la vape !
Le 25 septembre 2014
star star star star star
Une boutique proposant une collection de cigarettes électroniques de qualité premium et de liquides à vapoter aux saveurs fabriquées en France.
Le 03 juillet 2020
star star star star star
Très belle boutique avec un gérant comme un vendeur au top de la relation client! Produits de qualité et conseils avisés. Très bonne adresse!
Le 26 août 2022
star star star star star_border
hard and good stuff i am now sleepin forever
Le 13 octobre 2022
star star star star star
Very good shop, the team is at the top, super friendly, attentive to needs, always smiling, a pleasure to come by every time ☺️
Le 15 octobre 2022
star star star star star
Alter smoke is a reference in terms of electronic cigarettes, the flavors are great and the manager is super nice :) I highly recommend
Le 19 mars 2023
star star star star star
I went there being a novice of the electronic cigarette, and the gentleman behind the counter kindly informed me. Very good shop, wide choice of cigarettes for all budgets, and wide choice of tastes too.
Le 27 septembre 2023
star star star star star
Young and dynamic team, a warm welcome and above all professionals at our disposal I highly recommend you will never be disappointed. A happy customer.
Le 19 octobre 2023
star star star star star
A seller with cordiality both in sales and ADVICE. Particularly Warm and Comforting in his advice... Very supportive and ameliorative as well as meditative in learning about one's personal nicotine consumption and I specify this (consumption) as healthy!