AlterSmoke
Neuilly-sur-Seine
44 avenue Charles de Gaulle
92200 Neuilly-sur-Seine
Lundi

10h30-20h00

Mardi

10h30-20h00

Mercredi

10h30-20h00

Jeudi

10h30-20h00

Vendredi

10h30-20h00

Samedi

10h30-20h00

Dimanche

Fermé
add Boutiques Paris & Ile-de-France
star
star
star
star
star_half
110 Avis

4,4
Métro & RER
Les Sablons / Porte Maillot
Lignes de bus & Tram
Arrêt
Place du Marché de Neuilly
Parking le plus proche
Indigo Place du Marché
Du sevrage tabagique aux plaisirs de la vape, l'équipe du magasin AlterSmoke Neuilly vous conseille et vous accompagne tous les jours du Lundi au Samedi (le Lundi de 12h à 20h et du Mardi au Samedi de 11h à 20h). A deux pas de la Place du Marché, entre les métros Sablons et Porte Maillot, Adrien, Thibault et Martin sont à votre disposition !
Vous souhaitez arrêter de fumer ? Nous sommes là pour vous aider à passer ce pas en douceur : comprendre vos besoins, vous guider dans le choix du matériel et prendre le temps de vous en dévoiler les subtillités, et bien sûr choisir avec vous la ou les saveurs qui vous conviendront le mieux pour laisser la cigarette derrière vous. Vous êtes un vapoteur ou une vapoteuse avancé(e) ? Nous vous aiderons à évoluer vers une machine plus puissante et des arômes plus complexes.
En terme de matériel, nous travaillons avec les marques réputées pour leur fiabilité et leur efficacité : Vaporesso, Eleaf, Innokin, Aspire, etc. Quant aux e-Liquides, en plus de la gamme très étendue d'AlterSmoke, nous travaillons avec de grands liquidiers français et étrangers (Petit Nuage, Curieux, Halo, Empire Brew, Yogi, etc.). Nous proposons également une large gamme de cigarettes électroniques jetables (Puff, Wpuff, Puffmi etc.) pour les débutants.
Alors n'hésitez pas ! Nous sommes à votre service pour répondre à vos questions et vous accompagner au mieux.
Offre spéciale AlterSmoke
5 liquides achetés - le 6ème offert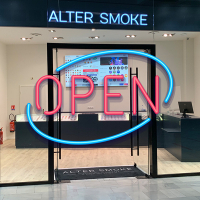 Ouvertures exceptionnelles
Ouvertures exceptionnelles Jeudi 18 Mai et Lundi 29 Mai 2023
Le 07 juin 2020
star star_border star_border star_border star_border
Vendeur pas accueillant, ne connaît pas ses produits
Le 25 juin 2019
star star star star star
Bonne expérience, le conseiller est sympa, explique bien et conseille en fonction des besoins... Bon choix de produits et jus pour tous les goûts Je recommande vivement
Le 10 novembre 2018
star star star star star
Un espace convivial avec un large choix d'équipements et de liquides. Ici la relation client n'est pas qu'une simple expression, mais une vraie philosophie. Client fidèle depuis 4ans
Le 02 novembre 2018
star star star star star
Super boutique! Bon matériels! Vendeur bienveillant et compétent qui sera vous conseillé et vous faire apprécié la cigarette électronique tout en améliorant votre santé
Le 31 octobre 2018
star star star star star
La boutique a changé de gérant il y a peu de temps. Adrien connaît particulièrement bien les cigarettes électroniques et a été capable de me conseiller au mieux. Les produits variés, la qualité et surtout l'accueil que l'on y trouve en font un endroit parfait pour débuter et/ou redécouvrir le monde de la vape. Thibault
Le 30 août 2022
star star star star star
Super pleasant and smiling seller. Thanks for the advice, I tried the Melty leaves liquid and it's great! I recommend :)
Le 18 juillet 2022
star star star star star
Home at the top! Very professional and attentive team. The products are of high quality and there is a wide choice of puffs
Le 15 juillet 2022
star star star star star
I have been coming to the Neully shop for 2 years and always with great pleasure. Super team around Fernando with Guillaume and Yasmine.
Le 30 août 2022
star star star star star
A great store, top service and a wide choice of tastes such as electronic cigarettes! Little more for the melty leaves!
Le 20 juillet 2022
star star star star star
Very good welcome with several choices at the level of the very smiling seller puffs I recommend!