AlterSmoke
Artigues (près-Bordeaux)
2 Avenue Descartes
33370 Artigues-près-Bordeaux
Lundi

09h00-19h00

Mardi

09h00-19h00

Mercredi

09h00-19h00

Jeudi

09h00-19h00

Vendredi

09h00-19h00

Samedi

09h00-19h00

Dimanche

Fermé
add Boutiques France & Dom
star
star
star
star
star_half
182 Avis

4,6
Lignes de bus & Tram
Parking le plus proche
Parking Gratuit
Votre magasin AlterSmoke Artigues-près-Bordeaux vous propose une large gamme de produits du vapotage : e-cigarettes rechargeables, cigarettes électroniques jetables (Wpuff) e-Liquides fabriqués en France, accessoires, batteries et chargeurs, étuis… Toutes les nouveautés et grands classiques sont là !
Forts de leur expertise, nos conseillers vous accueillent afin de vous guider dans le choix de votre cigarette électronique (Vaporesso, Innokin, Voopoo, Eleaf, Justfog…), d'un e-Liquide (T-Juice, Vampire Vape, Fruizee, AlterSmoke…) ou d'accessoires de Vape.
La boutique de cigarettes électroniques AlterSmoke se situe sur l'avenue Virecourt, une des grandes artères d'Artigues.
Les conseillers de vente AlterSmoke, Franck et Mélissandre, sont à votre écoute, du Lundi au Samedi de 9h00 à 19h00 : il n'y a plus qu'à se laisser guider.
Toute l'équipe AlterSmoke est prête à vous accueillir et répondre à toutes vos questions sur la cigarette électronique.
L'équipe Altersmoke Artigues (près-Bordeaux)

Franck
Conseiller Alter Smoke
2019
Profil & Background
Franck maitrise parfaitement le domaine de la vape, et mettra son savoir à votre service pour vous guider dans votre choix de votre cigarette électronique et e-Liquide.
Aime : Les liquides gourmands.
N'aime pas : Les liquides trop frais.
Matériel préféré
Box Gaur 21 / Juggerknot V2
Mélissandre
Conseillère Alter Smoke
2022
Profil & Background
Mélissandre sera à votre écoute et toujours avec le sourire :=)
Aime : Les liquides fruités et l'humour :)
N'aime pas : Les liquides gourmands et frais, et le froid :(
Matériel préféré
Aegis Solo 2 / Zus et Gen 200 / Sakerz
E-liquide préféré
Breezer, La Fraise du Jardin, Le Fou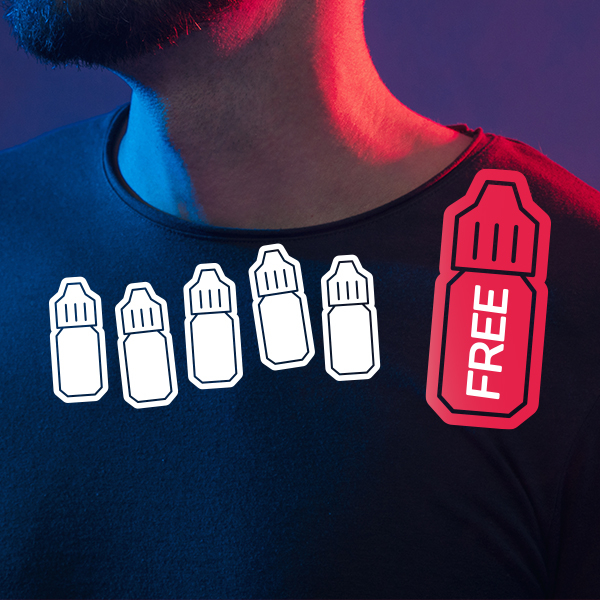 Offre spéciale AlterSmoke
5 liquides achetés - le 6ème offert
Ouvertures exceptionnelles
Ouvertures exceptionnelles Jeudi 18 Mai et Lundi 29 Mai 2023
Le 01 septembre 2020
star star star star star
Très bon accueil et très bons conseils. Matériel de qualité.
Le 15 juin 2020
star star star star star
Produits de qualité et accueil agréable. Ma vapotte étant vieillissante, j'en ai acheté une autre, et à ma grande surprise il y avait un réservoir ainsi que des petits joints de rechange. Du jamais vu avant. Je recommande vivement.
Le 17 juin 2020
star star_border star_border star_border star_border
Antipathique, ne vous regarde même pas quand vous parlez, ne répond pas au tel, tout sauf commerçant. La boutique est un aquarium de fumée de vapote (tjs porte fermée). Les anciens propriétaires manquent ! A proscrire absolument!
Le 23 mai 2020
star star star star star
Tres bon accueil et très bon conseils, produits de qualité et bon. merci
Le 18 février 2020
star star star star_border star_border
On sent que le sujet est maîtrisé. Toutefois je n'ai senti la transmission ni très pédagogue ni très sympathique. Je suis repartie sans rien.
Le 05 septembre 2022
star star star star star
Very warm welcome, the answers to my questions are immediate and explicit. Very good product selection. I like the possibility of creating my own mixtures with good advice. I visited several shops, this one is the good one… Yes I recommend
Le 25 octobre 2022
star star star star star
Small store but well stocked!! Advice and choice well present in this place, if you need they are there!! E liquid are of French quality and manufacture The boss is super nice and always full of humor
Le 18 octobre 2022
star star star star star
Great advice and welcome thanks to Franck who is very attentive and really friendly, a real pro and a great tradesman. The products are of high quality with a wide choice, there is something for everyone. Always a pleasure to go to the store when you are so well served.
Le 23 novembre 2022
star star star star star
Great welcome. Thanks to Franck and Mélissandre for their kindness. He advises you on the products that may suit you takes the time to explain to you a small shop, but a large choice. Thanks to them I wanted advice
Le 12 septembre 2022
star star star star star
I have been a customer since the opening and I highly recommend. Franck who has always received me (with a smile! This is not always the case elsewhere) is very friendly and always gives very good advice. They have good quality products at reasonable prices. So friends vapers, vapers the right address is Alter Smoke