AlterSmoke
Levallois-Perret (So Ouest)
Centre Commercial So Ouest - Niveau -1
31 Rue d'Alsace
92300 Levallois-Perret
Lundi

10h00-21h00

Mardi

10h00-21h00

Mercredi

10h00-21h00

Jeudi

10h00-21h00

Vendredi

10h00-21h00

Samedi

10h00-21h00

Dimanche

Fermé
add Boutiques Paris & Ile-de-France
star
star
star
star
star
126 Avis

4,9
Métro & RER
Lignes de bus & Tram
Arrêt
Alsace / Louison-Bobet / Trézel
Vous souhaitez arrêter de fumer ou vous réapprovisionner en e-Liquides, résistances et autres accessoires de vapotage ? Votre magasin AlterSmoke So Ouest, situé à Levallois-Perret (92), vous accueille afin de vous proposer une alternative sûre et efficace.
Nos équipes ont sélectionné pour vous le meilleur de la cigarettte électrionique. Des e-Liquides français (AlterSmoke, F***in Fresh Fruits !, la Chose, le Clone...) aux jus anglais (Heisenberg, Red Astaire...) en passant par les incontournables fraîcheures malaisiennes, ce sont pas moins de 200 références qui vous seront proposées.
Notre gamme de cigarettes électroniques est elle aussi très fournie (Justfog, Vaporesso, Eleaf, Geek Vape, Vaptio...) et pour tous les vapoteurs, et plusieurs marques de cigarettes électroniques jetables avec ou sans nicotine (puffs) vous sont également proposées (Wpuff, Puffmi).

Votre boutique AlterSmoke So Ouest vous propose la Juice Box, une pompe d'e-Liquide accueillant 16 saveurs AlterSmoke. Des économies et une consommation plus responsable grâce à la réutilisation de vos flacons.

L'équipe AlterSmoke vous accueille dans un cadre agréable, du Lundi au Samedi de 10h00 à 20h30 : ses experts sauront orienter dans votre choix de cigarettes électroniques et accessoires.
Offre spéciale AlterSmoke
5 liquides achetés - le 6ème offert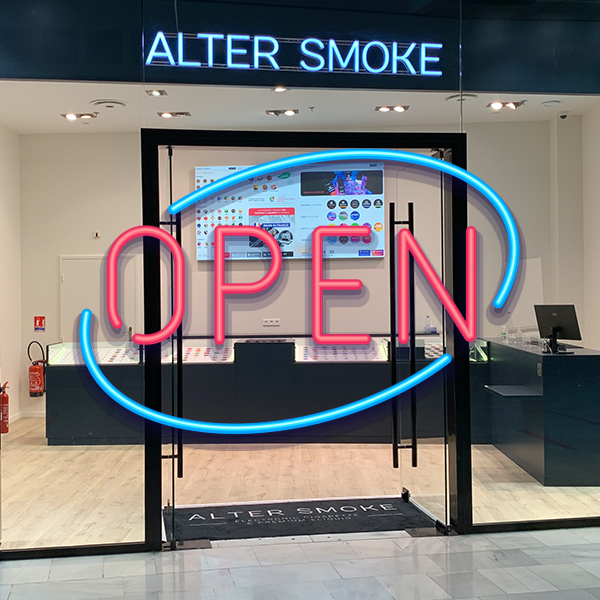 Ouvertures exceptionnelles
Ouverture exceptionnelle 2023 : Jeudi 18 Mai, Lundi 29 Mai, Dimanche 2 Juillet, Dimanche 9 Juillet, Vendredi 14 Juillet, Mardi 15 Août, Dimanche 27 Août, Dimanche 3 Septembre, Mercredi 1er Novembre, Samedi 11 Novembre
Le 24 novembre 2019
star star star star star
Cool
Le 31 mai 2020
star star star star star
J'ai décidé de changer ma cigarette électronique la semaine dernière, et après plusieurs passages dans la boutique, je ne me suis pas trompé. Les vendeurs connaissent leurs produits sur le bout des doigts, prennent le temps pour vous conseiller, et je ne regrette absolument pas mes achats chez eux. Je recommande a 100%.
Le 19 août 2020
star star star star star
Très bonne accueil de la part de Damien, très bon conseiller, à le sens du commerce et de la relation client, n'hésitez surtout pas à y aller les yeux fermés, c'est le premium de la e-cigarette !!!
Le 01 octobre 2019
star star star star star
Un accueil fort chaleureux, un vendeur, souriant, avenant et à l'écoute, un large choix de produit ( cigarette électronique et goût) le plaisir de goûter avant de prendre et de savoir par la suite que tout et préparer par l'équipe renforce l'envie d'acheter dans ce magasin. Un grand merci à Kevin qui a su être présent pour mes demandes. Je recommande vivement ce magasin pour tout. En plus quelques photos de mon achat sur un coup de tête mais un très bon achat quand bien même.
Le 20 janvier 2020
star star star star star
Trois vendeurs très agréables, accueil au top. Il ne force pas l'achat mais ils cherche a vraiment connaître vos besoins. C'était mon premier achat de vapote et j'ai eu des super renseignements. Je vous recommande a 100%
Le 31 août 2022
star star star star star
Excellent service !
Le 08 décembre 2022
star star star star star
I highly recommend. Very nice shop with very good prices and very original vapes (special mention for the vape in the shape of a pipe). Very well advised, the sellers (Shérine and Clément) know exactly how to offer what corresponds to the needs, and there is even the possibility of trying the tastes before buying them. In one word, INCREDIBLE!
Le 01 novembre 2022
star star star star star
Incredible hospitality. Clement is lovely. He is pleasant and wants to help the customer. I recommend this shop.
Le 09 décembre 2022
star star star star star
A very very good welcome from the manager Clément and very good advice from Sherine and Florian I recommend this store.