AlterSmoke
Lieusaint (Carré Sénart)
Centre Commercial Carré Sénart - Niveau 0
3 Allée du Préambule
77127 Lieusaint
Lundi

10h00-20h30

Mardi

10h00-20h30

Mercredi

10h00-20h30

Jeudi

10h00-20h30

Vendredi

10h00-20h30

Samedi

10h00-20h30

Dimanche

11h00-19h00
add Boutiques Paris & Ile-de-France
star
star
star
star
star_half
152 Avis

4,6
Métro & RER
Parking le plus proche
Parking du Centre Commercial - GRATUIT
Découvrez un large choix de cigarettes électroniques dans le magasin AlterSmoke de Lieusaint situé dans le Centre Commercial Carre Sénart : e-cigarettes, e-Liquides fabriqués en France, accessoires, batteries et chargeurs, étuis… Vous trouverez tout ce qu'il vous faut !
Vous pourrez profiter des conseils d'AlterSmoke : ses conseillers, experts en matière de cigarettes électroniques, étudient votre besoin et votre utilisation pour vous guider vers le modèle le plus approprié parmi les plus grandes marques Matériel (Vaporesso, Eleaf, Aspire, Innokin...) et e-Liquides (AlterSmoke, Halo, T-Juice, Vampire Vape, Fcukin Flava, Liquidéo...). La boutique de cigarettes électroniques AlterSmoke Carre Sénart est située au Sud Est de Paris, près de la ville d'Evry.
À noter : le parking du centre commercial est gratuit. Bornes de recharges pour voitures électriques à disposition.
Pour vous y rendre en voiture :
Depuis l'autoroute A6 ou A4, prendre la direction Troyes par A5, suivre la N104-Francilienne puis l'A5a: sortie 10, "Centre Commercial Régional".
Pour vous y rendre en RER :
Prendre le RER D et descendre à la gare de Lieusaint-Moissy.
En provenance de la Gare RER de Lieusaint-Moissy, empruntez la ligne T ZEN (en direction de Corbeil-Essonnes Gare RER). Arrêt : Carré Trait d'Union (Les Canaux) - C.C. Westfield Carré Sénart. Quelque mètres ensuite à pied.
Les conseillers de vente AlterSmoke sont à votre écoute 7 jours sur 7 de 10h00 à 20h30 du Lundi au Samedi, de 11h00 à 19h00 le Dimanche toute l'année ! (sauf le 1er Janvier, le 25 Décembre et le 1er Mai).
Toute l'équipe AlterSmoke Carré Sénart est prête à vous accueillir et répondre à toutes vos questions sur la cigarette électronique.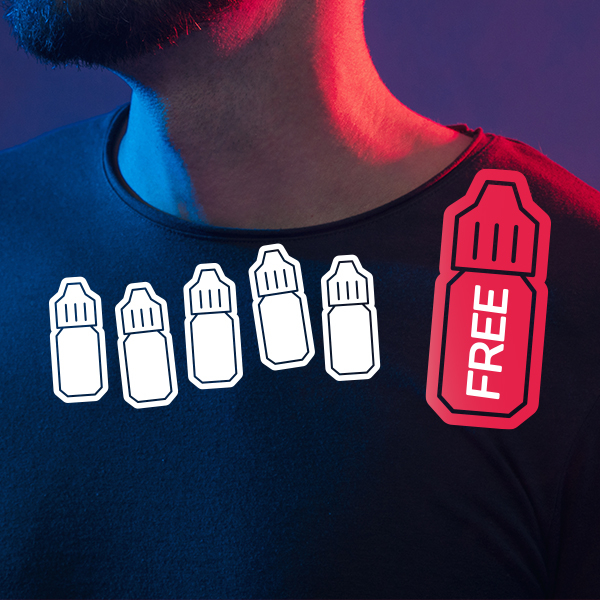 Offre spéciale AlterSmoke
5 liquides achetés - le 6ème offert
Le 06 septembre 2020
star star star star star
SAV. Accueil. J'y vais chaque mois. Carré Sénart.
Le 06 février 2020
star star star star star
Excellent service ! Malgré la forte affluence, le Monsieur présent a su gérer le flux comme un as et revenir à moi dès que possible tout en enchaînant avec moi, les dégustations de saveurs luxueuses que proposent Alter Smoke. Après de longues dégustations, je suis ressorti avec le Vaporesso Luxe et 3 mini flacons de e-liquid. Ce n'était pas n'importe quel vendeur il savait réellement de quoi il parlait et résultat j'arrête graduellement la cigarette à ce jour .. j'étais à 2 paquets quotidiens...
Le 12 juin 2020
star star star star star
Le vendeur a su rapidement cibler mes besoins et il est très sympa. J'espère que le modèle me durera assez longtemps.... en tout cas jusqu'à ce que j'arrête définitivement ...
Le 09 février 2020
star star star_border star_border star_border
Dommage de ne que trop ressentir que les besoins du client sont secondaires. La vente prime ! Une petite prise de temps pour des explications et des comparatifs tant sur le matériel que sur les produits pour être certain que le client reparte satisfait avec un achat qui lui correspond serait bien. J'ai trop ressenti que seule la vente et la carte bancaire était important. Également lorsque vous dépensez plus de 160€ un petit cadeau (mèche ou 10ml de liquide) serait bien.
Le 28 juillet 2019
star star star star star
Très bon conseil j ai acheter une première cigarette électronique il y a 3 semaines que j ai offert à mon homme et bien j y suis retourner pour m en acheter une Vendeurs très sympathique
Le 31 août 2022
star star_border star_border star_border star_border
Hello, came today to make purchases but the lady with the glasses refused to serve me because I had arrived at 8:22 p.m. and she had no business waiting until 8:30 p.m. at 8:30 p.m. a very unpleasant person who absolutely wants to go home because she has a long way to go. Yet I came from 20 km further to make purchases Never again at home
Le 25 août 2022
star star_border star_border star_border star_border
I do not recommend this shop, the red-haired saleswoman is incompetent, during my purchase of August 22, 2022, she made me buy a cigarette that is rechargeable on the mains when I asked her for a cigarette with batteries. I haven't used it and for lack of time I'm going back to the store on August 25, 2022 to make an exchange and even add money if the other is more expensive and there she replies that she's never wrong and it's not possible to make an exchange and that I only had to check what I was buying. Cheer I advise against
Le 08 septembre 2022
star star star star star
Very good shop, with good sellers who take the time to explain every detail about their products! And again thanks to the manager for the commercial gesture
Le 07 novembre 2022
star star star star star
A big thank you to Aubin and Kevin for their advice which helped me to choose my different products, especially among their large choice of liquids. I highly recommend this shop.
Le 16 juin 2022
star star star star star
We decided to switch from the classic cigarette to electronics, and the seller of the shop knew how to take the time and give all the necessary advice to guide us as well as possible on the choice of equipment, and liquids adapted to the best conditions. depending on our needs. One thing for sure, there is no shortage of tips and varieties of liquid. We will come back to it as soon as the stock is built up.