AlterSmoke
Tourville-la-Rivière
Centre Commercial Carrefour
2 Avenue Gustave Picard
76410 Tourville-la-Rivière
Lundi

10h00-20h00

Mardi

10h00-20h00

Mercredi

10h00-20h00

Jeudi

10h00-20h00

Vendredi

09h30-20h00

Samedi

09h30-20h00

Dimanche

Fermé
add Boutiques France & Dom
star
star
star
star
star
214 Avis

4,8
Lignes de bus & Tram
Parking le plus proche
Parking du Centre Commercial
A la recherche d'une cigarette électronique ? Votre magasin AlterSmoke Tourville-la-Rivière est là pour vous !
Une sélection de kits pour débutants ou vapoteurs confirmés, de clearomiseurs MTL ou DTL, de résistances compatibles (avec plus d'une cinquantaine de modèles), d'accessoires et d'e-Liquides français et d'importation vous y sont proposés, ainsi qu'une large gamme de cigarettes électroniques jetables - puffs (Wpuff, Puffmi etc.).

Votre boutique AlterSmoke Tourville, située dans la galerie du Carrefour Tourville, est dôtée d'une Refill Station. Ce concept de pompe à e-Liquide permet des économies et une réutilisation écologique de vos flacons.

L'équipe AlterSmoke vous accueille dans un cadre agréable, du Lundi au Jeudi de 10h00 à 20h00 et de 9h30 à 20h00 le Vendredi et le Samedi : ses experts sauront orienter dans votre choix de cigarettes électroniques et accessoires !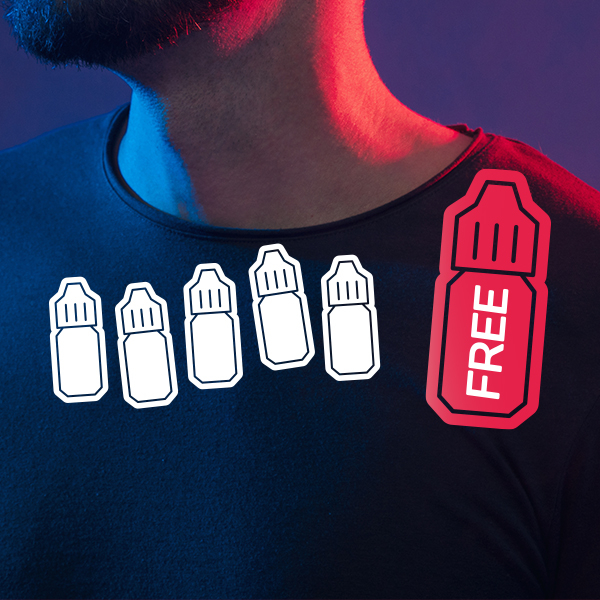 Offre spéciale AlterSmoke
5 liquides achetés - le 6ème offert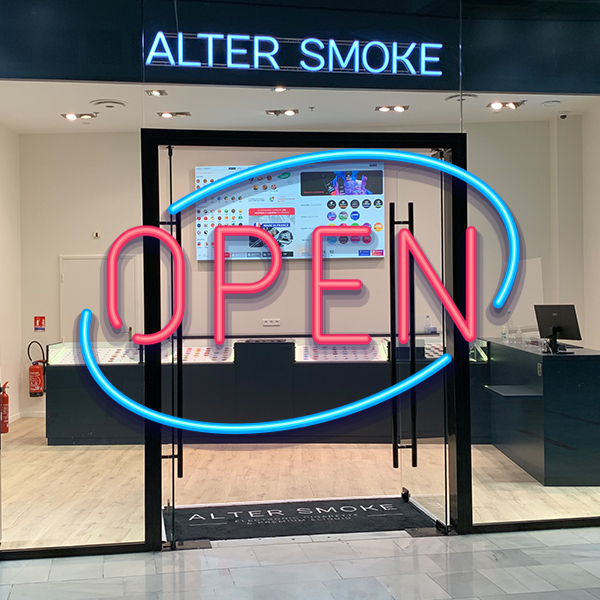 Ouvertures exceptionnelles
Ouverture exceptionnelle 2023 : Dimanche 3 Décembre, Dimanche 10 Décembre, Dimanche 17 Décembre, Dimanche 31 Décembre.
Le 17 septembre 2020
star star star star star
Super accueil. Vendeuse très gentille très à l'écoute et à donner de très bon conseil. Totalement ravi de mon achat. Je recommande vivement ce magasin.
Le 21 août 2020
star star star star star
Très bonne accueil de très bon conseille pour une personne qui souhaite arrêter de fumer
Le 25 août 2020
star star star star star
Conseils au top ! Je suis ravie de mon passage au magasin aujourd'hui, la conseillère vendeuse est vraiment à sa place, elle a su avec tous ses conseils me renseigner au mieux, très bonne expérience, vraiment !
Le 23 mai 2020
star star star star star_border
Nouvel achat le jeudi 20 mai 2020. Contente de l'achat. Magasin sympa. Personnels accueillants, souriants. Satisfaite de ma cigarette électronique.
Le 19 février 2020
star star star star star
Reçu le 18 février par une jeune femme adorable Que je remercie encore pour sa patience et surtout son aide car grâce à elle je ne reprendrais pas la cigarette Un super accueil des professionnels à l'écoute du client je recommande vivement ce magasin ☺️
Le 15 juillet 2022
star star star star star
Very nice home . Hesitant to get into the electronic cigarette I was very well advised by the saleswoman who is also very professional and knows the subject well. She was able to answer all my questions and advised me on the right equipment. I just started with the cigarette and I must say that for the moment it hit the mark. I would come back to buy my consumables from them even if I'm not necessarily next door because really a shop and merchants like I like to see! Keep it up!
Le 06 octobre 2022
star star star star star
Very friendly, professional seller. We were able to be (perfectly) guided in the choice of the product, appropriate to our needs, which had not been the case during a previous purchase in a tobacco shop.
Le 23 septembre 2022
star star star star star_border
Very pleasant seller, she was able to advise me effectively and for the moment the products correspond rather to my expectations. Satisfied I will come back if the welcome is still as perfect
Le 14 octobre 2022
star star star star star
A superb store, with knowledgeable sellers. Thank you for your advice and kindness. Keep it up, I would come back without worries!!
Le 17 octobre 2022
star star star star star
I arrived completely new to the store and Aurélie explained everything to me. She is great! Listening, good advice and really kind. I recommend this store!
Le 14 mai 2023
star star_border star_border star_border star_border
Hello I am very disappointed with the latitude of the 3 people who take care of us in this store I explain to myself we entered for the first time to get information everything went well we left and came back a second time my wife asks pants at 35 euros on the end of the counter we discuss with one of them we buy two vapes and we leave forgetting my daughter's pants the 2 other people at a meter from the pants look at us and we are not even challenged to warn us my wife comes back to the store to pick it up the salesman says yes he speaks to me I look in the reserve he comes back and says no to my wife he warns it's two colleagues by phone because in the meantime they left the store and of course they haven't seen anything either all this to tell you that I'm very disappointed with their behavior it's dishonest on their part stole pants from a customer I don't understand so I don't recommend this store and its malicious staff .
Le 30 avril 2023
star star star star star
Loyal customer to this particularly pleasant store! Always highly recommended! Very professional! A very friendly team! Thanks to Jeremy and Angélique for your kindness! See you soon !
Le 01 avril 2023
star star star star star
My boyfriend quit smoking thanks to you! He had been smoking since he was 16 and since his visit to your shop to get information on a Works Council, he has never taken up smoking again. Quality products and advice. In addition, sellers listening. I highly recommend.
Le 08 avril 2023
star star star star star
Very good sign, excellent staff who know their work very well and are very competent, in addition to very good friendliness. A great team!!!
Le 16 mai 2023
star star star star star
Competent sellers, smiling, good humor in the store, always good advice. Perfect.
Le 02 juillet 2023
star star star star star
There is so much to say that I will try to be quick and concise! - Quality advice - A customer relationship so pleasant and with mutual gratitude - Ability to feel, ask questions, etc. Brief ! Nothing beats pleasant small traders with sincere advice! Because sincerely since I went there I said goodbye to certain sites, because I was too disappointed with the disgusting tastes and the ECs that farted after 3 weeks! So I prefer to put a few euros more for kindness, advice and patience. What you will never find on the internet! Thank you again for your valuable advice and see you soon!
Le 15 juillet 2023
star star star star_border star_border
It should be noted that almost all of the ultra-positive opinions on this trader are placed with accounts created recently and which have only one opinion... To say that these are bogus opinions may be a risky statement, but good. ... Mistrust !! For my part, I remain positive on this trade, but I find that the prices charged are exorbitant. Store in the shopping mall of a ZAC where the rents of the sales locations are quite expensive. To make his business profitable, the merchant is almost obliged to charge high prices, even if the products offered are completely basic. The same items can be found on online merchant sites ("le petit vapoteur" for example) for much less. 50€ in Tourville ... 30€ on the internet!! All the same ..... Otherwise, the staff is nice and seems to know its products ... at least, the sellers recite by heart -and without fail- the sales pitch. During the first contact, the seller directs us directly to the most expensive product, as if by chance! ... But this is how it is with all merchants ... After conversation, the seller gradually offers less expensive products .... Overall good experience....but expensive...For urgent troubleshooting only... For my part, the rest will be done with the little vaper! Unless an emergency!!!!
Le 08 juillet 2023
star star star star star
Passing through Normandy (I am from Lyon), I went to this store to buy an electronic cigarette because mine failed me. Very warm welcome from the seller, a natural and close relationship with the customer, I will come and see his former colleague Aurelie sur Lyon with pleasure once I get home. I was a seller and I know how important it is to receive positive opinions in this job which is not easy every day.
Le 27 juillet 2023
star star star star star
Super welcoming staff responding very correctly to all our questions and even solving our problems with clear answers and proposing other solutions. Thanks to you both guys
Le 11 août 2023
star star star star star
At the top of the top if you want to stop smoking go if your eyes are closed he advises you very well and they are due extreme kindness I highly recommend ☺️
Le 23 septembre 2023
star star star star star
A welcome and advice that met our expectations, very satisfied with the sellers, adorable and competent!!